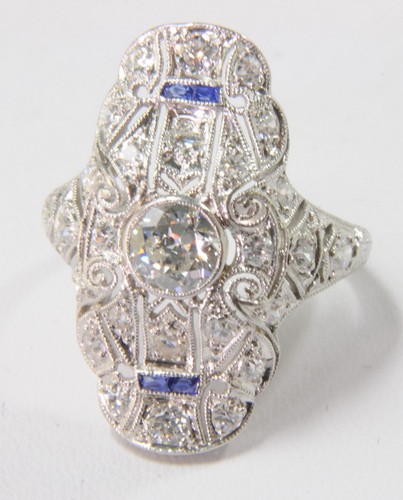 This ring is similar to my grandmother's dinner ring that has three large diamonds and sapphires on the sides.


My grandmother, Molly, carried her dinner ring across the ocean from Poland in the early 1900's. She showed me how she had it hidden in a cloth pouch under her skirt. My grandmother gave me her diamond dinner ring in the presence of my father. She signed a little paper to make the "sale" of the ring legitimate for the price of one dollar. My father witnessed the transfer of the ring. It was in Providence Villa in Toronto where my grandparents had lived for many years.
Dawn McSweeney stole my grandmother's ring along with my husband's New Jersey Deputy Sheriff's badge and his rings and all my most precious valuables on October 7, 1996 while I was living with my parents at 4995 Prince of Wales, NDG Montreal.
DawnMcSweeney committed this atrocity
Against me and my family
With the help of a Montreal Police officer.
I have been fighting for the return of my precious belongings day and night since that terrible day. The Montreal Police refuse to take any action against the thief, Dawn McSweeney and those she calls her "partners in crime" on her own blog.
The Montreal Police have always refused to recover my stolen belongings except for one item - my Borg coat - which Dawn McSweeney returned to Montreal Police officer Laverdiere shortly after the crime, early in 1997.

The Montreal Police cover-up continues to this day.

And so I fight on for justice and for my precious belongings without ceasing day and night, day after day, week after week, month after month, year after year. I have devoted my life to the battle for justice - for myself, for my family and for other victims of vicious criminals and corrupt police and politicians.

This battle cost me my family and my health as well. I am also fighting cancer day and night without ceasing. I fight on until justice is done and everything the thief stole is returned to me and to my family.
I fight on for justice until my last breath and if my belongings are not returned before I die, I ask good people all over the world to take up my struggle and fight on for me until everything Dawn McSweeney stole with the help of her accomplices, Alex Lavergne and Kenneth Gregoire Prud'homme and the Montreal Police is returned to my family.